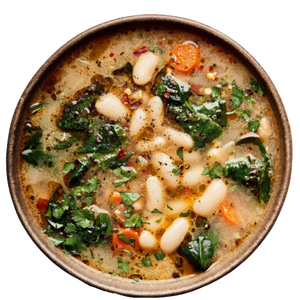 white bean, kale, onion, carrot, celery, garlic, veg stock (carrot, onion, garlic, apple cider vinegar, filtered water, sea salt), brown rice flour, nutritional yeast, oregano, basil, red chili flake, sea salt, black pepper 
White beans are extremely beneficial to any diet due to their nutrient density, high fibre, and protein. They support healthy digestion by feeding the good bacteria in our microbiome with a variety of phytochemicals. 
Reheat to enjoy - Please keep in refrigerator for up to 5 days or freeze for up to 3 months!