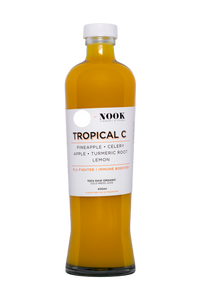 pineapple // celery // apple // lemon // turmeric root
anti-inflammatory • stress reliever •  anti-oxidant
The name says it all, this juice's duty is to give your body the vitamin c kick it so desperately needs. Pineapple is packed with vitamin C as well as bromelain, an powerful enzyme found in pineapple that reduces inflammation and supports digestion. Paired with the queen bee - turmeric - this juice is an anti-inflammatory power house.  
NUTRITIONAL FACTS
Serv. per bottle: 2 | Calories 60, Fat 0g, Cholesterol 0g, Sodium 4mg, Potassium 269mg, Carb 16g, Fibre 0g, Sugar 6g, Protein 0g | Vitamin A 8% | Vitamin C 110% | Calcium 2% | Iron 2%
Keep refrigerated, shelf life 5 days
400ml