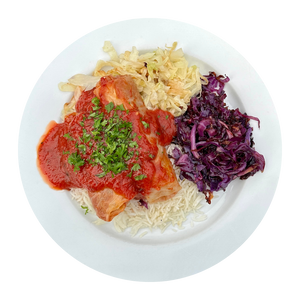 turkey, cabbage, quinoa, white basmatic rice, tomato, onion, garlic, celery, spices, sea salt, olive oil, sesame seed, pumpkin seed
Contains grains.
Cabbage is rich in antioxidants and vitamin C, which can enhance your immune system and help protect against certain cancers. Its high fiber content aids digestion and helps maintain healthy cholesterol levels.
Heat up in pan for 3-5 minutes! Please enjoy within in 3 days.
REG: CALORIES 625, PROTEIN 38g, FAT 27g, CARB. 44g, SUGAR 9g, FIBRE 10g 
LOW-CARB: CALORIES 595, PROTEIN 37g, FAT 27g, CARB. 23g, SUGAR 10g, FIBRE 11g