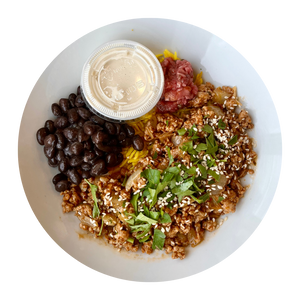 seasoned ground turkey, black bean, spiced basmati rice (cauliflower rice for low-carb option), corn, onion, pickled turnip chutney (turnip, beet, apple cider vinegar, sea salt, black pepper, bay leaf), cashew sour cream (cashew, apple cider vinegar, olive oil, dijon mustard, garlic, sea salt), pumpkin seed, sesame seed, spices
Black beans are a great source of  folate, iron, and plant protein. They contain antioxidants and can help with weight management due to the low in fat and calories, yet high in fibre and protein!
Keep refrigerated and enjoy within 4 days. 
REG: CALORIES 560, PROTEIN 38g, FAT 16g, CARB. 56g, SUGAR 5g, FIBRE 8g 
LOW-CARB: CALORIES 480, PROTEIN 38g, FAT 16g, CARB. 26g, SUGAR 5g, FIBRE 8g 
+ PROTEIN: CALORIES 620, PROTEIN 48g, FAT 18g, CARB. 56g, SUGAR 5g, FIBRE 8g