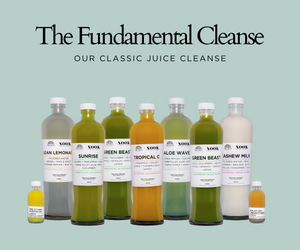 Each day includes:

Lean Lemonade 

Digestion Aid Shot (60ml)

Sunrise

Green Beast

Tropical C
Aloe Wave
Green Beast
Immunity shot

(60ml)

Cashew Milk
This cleanse has been carefully crafted with a blend of organic fruits and vegetables that are packed with vitamins & minerals support your body functions and help you glow from the inside out. It is a great "any-time" cleanse to help bring us back to balance. 
We all love to indulge now and again, this cleanse is a perfect way to find the balance of having a little too much fun and giving your body the reset that it deserves!
The cleanse contains 6 juices, 1 cashew milk, and 2 raw shots that have been carefully crafted with a blend of fruits and vegetables making it both delicious and nutritious. whether you find yourself stressed or coming from a time of over indulgence this is the perfect way to hit the reset button. If you'd like to order a 5 day cleanse, please order a 3 day & a 2 day cleanse - They will be delivered separately to ensure that the juices are fresh for the duration of the cleanse.
**Keep refrigerated, shelf life 72 hours