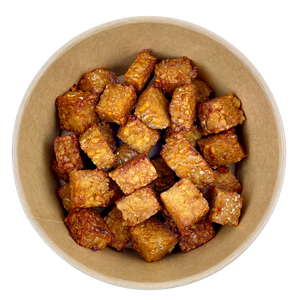 tempeh | tamari | miso | olive oil | chili powder | maple syrup | paprika | red chili flake
Tempeh is a superfood originating from Indonesia. It is made with cultured and fermented soybeans and it a great source of protein, fibre, and prebiotics.

Our tempeh is made locally and is 100% vegan, certified organic, made with locally-sourced soybeans. It is the perfect protein-add on to ANY meal. Simply heat in a pan for 2 minutes on medium-high heat or heat in the microwave for 2-3 minutes.
Per Container: 260g (3 portions per container) 
Per Serving (86g): Cal 150 | Protein 16g | Fat 7g | Fibre 7g | Carb 8g
The "Reg" option means that your meal will be delivered in a single-use 100% compostable container. The "Re-Use" option means that your meal will be delivered in a zero-waste Be.Friendlier container which has a $0.50 deposit. Your deposit will be refunded once you drop off the container at one of their depots. Click here to learn more: https://www.friendlier.ca/