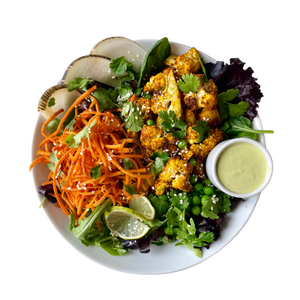 cauliflower, mixed leafy greens, roasted chickpea, carrot, peas, celery, lemon, tahini, turmeric root, cumin, parsley, sesame seed, pumpkin seed, lemon tahini dressing (olive oil, tahini, lemon, apple cider vinegar, sea salt, black pepper)
Option to Add Chicken 
One cup of cauliflower packs 3 grams of fibre which is important in order to feed the healthy bacteria in your gut that helps reduce inflammation and promote digestive health. Cauliflower is also high in Choline which helps to maintain the integrity of cell membranes and is also involved in brain development and production of neurotransmitters that are necessary for a healthy nervous system!
VEGAN: Calories 345, Carbs 24g, Protein 11g, Fat 14g, Fibre 8g, Sugar 7g
+ CHICKEN: Calories 490, Carbs 24g, Protein 28g, Fat 20g, Fibre 8g, Sugar 7g
Keep refrigerated and enjoy within 3 days.