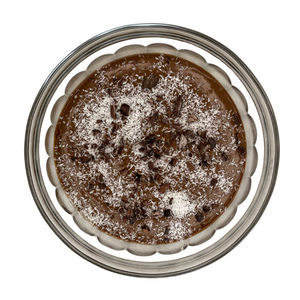 sweet potato, black bean, almond milk, maple syrup, cocoa powder, medjool date, salt, cinnamon, cocoa nib, pumpkin seed, flax seed, glow granola
Rich in antioxidants and fibre, sweet potatoes are great for gut health. Containing fibre that can be fermented by bacteria in your colon creating short-chain fatty acids, sweet potato fuels the cells of your intestinal lining keeping them strong and healthy! They are also rich in Vitamin A, which your body uses to maintain healthy vision.
Keep refrigerated and enjoy within 3 days.
Contains nuts & grain
CALORIES 355, FAT 9g, CARB. 55g, PROTEIN 12g, SUGAR 11g, FIBRE 12g