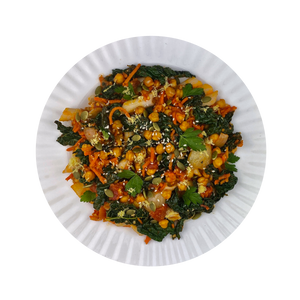 red + white quinoa pasta (zucchini noodle for low-carb), sprouted chickpea, lacinate kale, tomato, onion, garlic, celery, carrot, cashew, lemon, red chili flake, olive oil, basil, oregano, nutritional yeast, sea salt, black pepper
Chickpeas are an amazing source of fibre and plant protein as they contain all essential amino acids except for methionine but not to worry.. By pairing chickpeas with a whole grain (such as quinoa in the form of delicious pasta) that contains methionine we ensure that you're getting the full list of essential amino acids!  
CALORIES 622, FAT 21g, CARB. 74g, PROTEIN 26g, SUGAR 7g, FIBRE 17g
Please re-heat in a pan or in the microwave for 3-5 minutes. Please consume within 4 days.

Contains nuts.