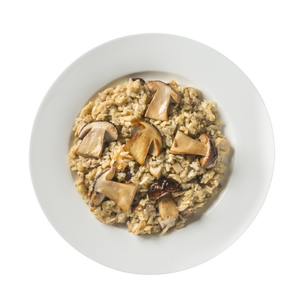 dried, porcini mushroom, shitake mushroom, bella mushroom, green pea, green rice, leek,  garlic, onion, celery, thyme, balsamic vinegar, parsley, olive oil, nutritional yeast, sea salt
We could go on forever on how much we love mushrooms so we are highlighting one of our favourites: The Shitake mushroom. They have been proven to boost heart health by containing compounds (such as eritadenine, sterol, and beta glucan) that help lower cholesterol! 
CALORIES 620, FAT 26g, CARB. 70g, PROTEIN 16g, SUGAR 6g, FIBRE 11g
Please re-heat in a pan or in the microwave for 3-5 minutes. Please consume within 4 days.  

Contains soy.