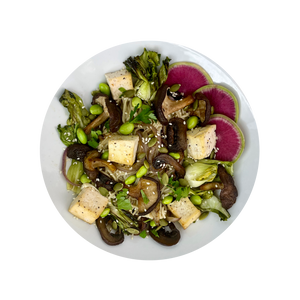 shitake mushroom, bella mushroom, tomato, tofu, onion, bok choy, edamame, millet noodle (zucchini noodle for low-carb), garlic, sesame oil, veg stock, white miso paste, tamari, red chili flake, maple syrup, sesame seed 
Contains soy. 
We could go on forever on how much we love mushrooms so we are highlighting one of our favourites: The Shitake mushroom. They have been proven to boost heart health by containing compounds (such as eritadenine, sterol, and beta glucan) that help lower cholesterol! 
Please re-heat in a pan or in the microwave for 3-5 minutes. Please consume within 4 days.  

CALORIES 520, FAT 14g, CARB. 48g, PROTEIN 21g, SUGAR 7g, FIBRE 14g
The "Reg" option means that your meal will be delivered in a single-use 100% compostable container. The "Re-Use" option means that your meal will be delivered in a zero-waste Be.Friendlier container which has a $0.50 deposit. Your deposit will be refunded once you drop off the container at one of their depots. Click here to learn more: https://www.friendlier.ca/