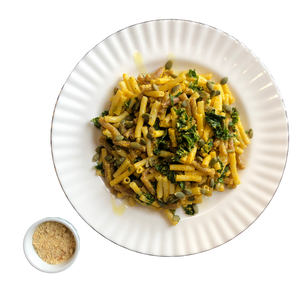 quinoa pasta, cashew, carrot, turmeric root, broccoli, olive oil, nutritional yeast, onion, garlic, pumpkin seed, sesame seed, almond, sea salt, black pepper
Contains grains and tree nuts.
Quinoa is a source of insoluble fibre, which ferments in your gut like soluble fibres, feeding your friendly bacteria and promoting better overall gut health! Quinoa provides all of the essential amino acids. Amino acids are the building blocks of proteins, and proteins are the building blocks of all tissues in your body.
Reheat for 3-5 minutes on the stove and enjoy within 5 days.
REG: CALORIES 605, FAT 18g, CARB. 80g, PROTEIN 16g, SUGAR 5g, FIBRE 6g
LOW-CARB: CALORIES 415, FAT 17g, CARB. 25g, PROTEIN 12g, SUGAR 6g, FIBRE 5g