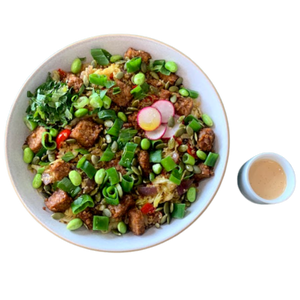 green cabbage, carrot, marinated tofu, celery, bella mushroom, onion, brown rice, garlic, red chili flake, tamari, sesame oil, pumpkin seed, ginger, cilantro, sesame seed
Contains grains and soy.
If you want to improve your digestion, fibre-rich cabbage is the way to go. Gut-friendly insoluble fibre helps keep the digestive system healthy by adding bulk to stools and promoting regular bowl movements! Soluble fibre can also be found in cabbage and helps lower elevated cholesterol levels by binding with the cholesterol in the gut and keeping it from being absorbed into the blood!
Heat up in pan for 3-5 minutes! Please enjoy w/ in 4 days.
REG: CALORIES 580, FAT 12g, CARB. 56g, PROTEIN 20g, SUGAR 10g, FIBRE 12g
LOW-CARB: CALORIES 480, FAT 11g, CARB. 35g, PROTEIN 20g, SUGAR 11g, FIBRE 13g