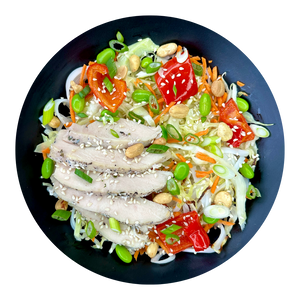 chicken breast, vermicelli noodles (zucchini noodles for low carb), green cabbage, carrot, celery, red pepper, onion, garlic, scallion, peanut, sesame seed, red chili flake, pumpkin seed, pad thai sauce (olive oil, tamari, lime juice, almond butter, maple syrup, pineapple juice, rice vinegar, red chili) 
Contains nuts & soy. 
Green Cabbage is often overlooked in the plant world, but it's a superfood all on its own. It is rich in vitamin B6 and folate, which are both essential for energy metabolism and supporting the healthy function of the nervous system.
Keep refrigerated and enjoy within 4 days.
REG: CALORIES 610, PROTEIN 38g, FAT 20g, CARB. 36g, SUGAR 9g, FIBRE 12g 
LOW-CARB: CALORIES 560, PROTEIN 37g, FAT 20g, CARB. 15g, SUGAR 9g, FIBRE 13g 
+ PROTEIN: CALORIES 655, PROTEIN 48g, FAT 22g, CARB. 36g, SUGAR 9g, FIBRE 12g