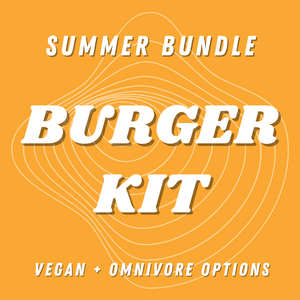 Summertime is meant to be enjoyed with friends and family outside, not stuck in the kitchen. Whether you're going up to the cottage or having a backyard BBQ - Our Summer Bundles are the perfect family-style meal kit to suit any occasion. 
Choose between omnivore or vegan options and whether you'd like the bundle for 4 people or 6 people. Have it delivered to your home packed and ready to bring up to the cottage! 
All meals are free from gluten, dairy, refined sugar, egg, and seed oils made by our amazing team - All of the sauces & dressings are made in house so that you can feel your best while enjoying the sunshine.
If you'd like to order for a larger group please message us at hello@eatnook.ca and we will take care of your order for you! 
INSIDE THE KIT:
HOUSE-MADE BURGER OPTIONS:




SWEET POTATO TURKEY BURGER

BLACK BEAN + BEET (vegan) 
PLEASE NOTE: The burger kit does NOT come with burger buns due to our facility being 100% gluten-free. 
INGREDIENTS: 
Black Bean + Beet Burger: Black bean, beet, carrot, garlic, sunflower seed, gf oat flour, onion, spices
Sweet Potato Turkey Burger: Ground turkey, sweet potato, carrot, celery, parleys, garlic, onion, spices
Herbed Potato Fries: White potato, parsley, garlic, onion, paprika, sea salt, black pepper 
Kale Caesar salad: Lacinate kale, carrot, red cabbage, chickpea, coconut bacon, cashew caesar dressing, pumpkin seed, sesame seed
Roasted Veg: Red pepper, zucchini, onion, cherry tomato, balsamic vinaigrette, pumpkin seed, sesame seed 
Cashew Caesar: Cashew, olive oil, apple cider vinegar, garlic, dijon mustard, spices 
Spicy Ketchup: Tomato, date, ginger root, onion, garlic, red chili flake, spices
All kits are made fresh to order. Kits are good for 4 days from day of delivery.