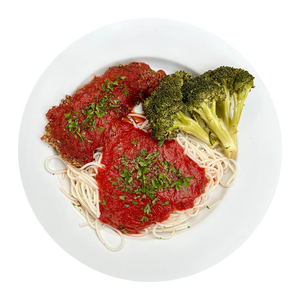 chicken, gluten-free pasta (zucchini noodle for low-carb), broccoli, almond, cashew, tomato, olive oil, nutritional yeast, garlic, oregano, basil, parsley, pumpkin seed, sesame seed, sea salt 
Contains grains and nuts.
Cashews are a tree nut rich in nutrients and beneficial plant compounds! They have been linked to benefits such as weight-loss, improved blood sugar control, and a healthier heart! Just one ounce of cashews has approximately 5g's of protein and 1 gram of fibre. They also contain a significant amount of copper, a mineral essential for energy production, healthy brain development, and a strong immune system.
Reheat in the oven for 10 minutes @ 325. Refrigerate until ready to enjoy within 4 days!
REG MEAL: CALORIE 703, CARB 58g, PROTEIN 45g, FAT 29g, FIBRE 9g, SUGAR 5g
LOW CARB: CALORIE 633, CARB 23g, PROTEIN 44g, FAT 32g, FIBRE 12g, SUGAR 7g