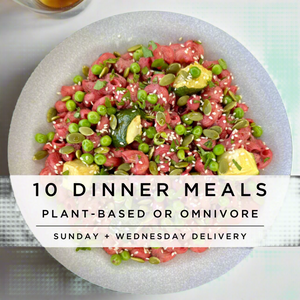 Our Pre-Set programs are created so that you get the most variety of meals without having to think about it! 
Receive 10 of our weekly dinner meals and let us take care of your evening meal for the week - Perfect for couples or roommates to share! Select between the "Glow" program (100% plant-based) or the "Athlete" program (plant-forward with sustainable protein) and receive 10 of our weekly meals. 
NEW: Choose between regular or low-carb options! 
Glow Menu | 100% Plant-Based
You will receive 10 dinners
Athlete Menu | Plant-Forward with Animal Protein
You will receive 10 dinners
There are no substitutions or changes with our pre set programs. To create a custom order please select the meals from the individual menu! 
All meals are made from scratch, with organic produce, and free from gluten, dairy, egg, preservatives, and refined sugar. 
*Please note: If you need any ingredients omitted from the meal due to an allergy please make note of it in the special instructions at checkout*