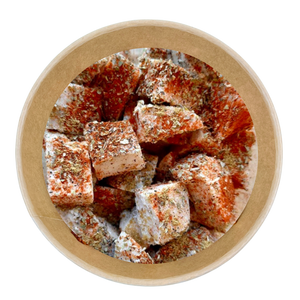 braised chicken | smoked paprika | garlic powder | dried oregano | cumin | onion powder | cinnamon | sea salt | black pepper | cayenne pepper 
Our Moroccan spiced chicken is the perfect protein-add on to ANY meal. Enjoy it cold with a salad or add it to any dinner meal warming it in a pan for 3-5 minutes or in the microwave for 2-3 minutes.
Lasts in the fridge up to 4 days. 
Per Container: 340g
Per Serving (100g): Cal 240 | Protein 28g | Fat 14g | Fibre 0g | Carb 0g | Sugar 0g