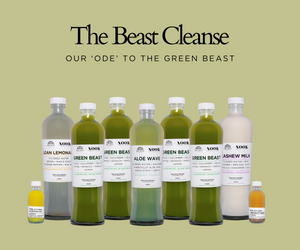 Each day includes:

Lean Lemonade 

Digestion Aid Shot (60ml)

Green Beast

Green Beast

Aloe Wave
Green Beast

Green Beast
Immunity shot

(60ml)

Cashew Milk
This cleanse is an ode to our OG - The Green Beast. We made this recipe back in 2014 with the desire to make the best green juice on the planet, using the best organic produce and balancing with just a touch of apple to make it enjoyable and effective. This is a "client made" cleanse, one that has been requested many times over the year. Through the day, you enjoy four Green Beast juices, along side two hydrators, a cashew milk, and two raw shots to flood your system with vitamins and nutrients needed to support our body's incredible ability to detoxify and repair. 
The cleanse contains 6 juices, 1 cashew milk, and 2 raw shots that have been carefully crafted with a blend of fruits and vegetables making it both delicious and nutritious. whether you find yourself stressed or coming from a time of over indulgence this is the perfect way to hit the reset button. If you'd like to order a 5 day cleanse, please order a 3 day & a 2 day cleanse - They will be delivered separately to ensure that the juices are fresh for the duration of the cleanse.
**Keep refrigerated, shelf life 72 hours