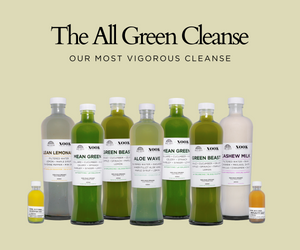 Each day includes:

Lean Lemonade 

Digestion Aid Shot (60ml)

Mean Green

Green Beast

Aloe Wave
Mean Green
Green Beast
Immunity shot

(60ml)

Cashew Milk
All green all the time. our "drink green" cleanse is quite simple, drink your vegetables. This cleanse has no carrots, beets, or pineapple, it is created for the detox lovers and green juice addicts. This cleanse is designed to flood your body with chlorophyll to restore your body's alkaline balance and rest your digestive system. The "drink green" is our most intense level of cleansing, this is our Everest and the rewards are certainly worth the climb.
The cleanse contains 6 juices, 1 cashew milk, and 2 raw shots that have been carefully crafted with a blend of fruits and vegetables making it both delicious and nutritious. whether you find yourself stressed or coming from a time of over indulgence this is the perfect way to hit the reset button. If you'd like to order a 5 day cleanse, please order a 3 day & a 2 day cleanse - They will be delivered separately to ensure that the juices are fresh for the duration of the cleanse.
**Keep refrigerated, shelf life 72 hours