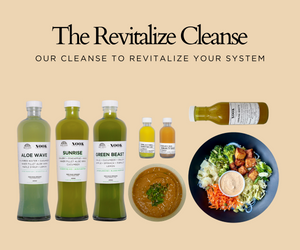 Each day includes:

Immune Broth
Digestion Aid Shot (60ml)

Sunrise

Green Beast
Soup
Aloe Wave
Immunity shot

(60ml)

Dinner Meal
One of two hybrid cleanses that we offer - This cleanse is a beautiful way to revitalize your system and give it the boost it needs in vitamins and nutrients. This hybrid cleanse is meant to support your digestive system and boost your immune system. A blend of organic cold pressed juices, immune boosting broth, soup, raw shots, and a low carb meal at dinner time - This cleanse is more gentle than a pure juice cleanse while still flooding your system with food it craves to feel it's best.
We offer both a vegan option & an omnivore option (this will be reflected with broth, soup, and dinner meal). The meals will be selected from "This Week's Menu" - If you would like to choose the meals that you receive please take a look at the menu and add the meal names in the special instructions.
**Keep refrigerated, shelf life 72 hours