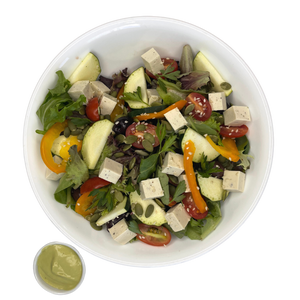 mixed greens, cherry tomato, arugula, roasted red pepper, kalamata olive, roasted zucchini, vegan 'feta', basil, lemon, pumpkin seed, sesame seed, black bean, balsamic vinaigrette (olive oil, balsamic vinegar, dijon mustard, maple syrup, apple cider vinegar, sea salt)
Option to ADD Chicken | Contains nuts
Olives are very high in vitamin E and other powerful antioxidants. Due to their healthy fats they are good for the heart and may protect against osteoporosis and cancer. Olives are also a good source of iron, which is important for your red blood cells to transport oxygen.
 CALORIES 410, FAT 16g, CARB. 28g, PROTEIN 12g, SUGAR 4g, FIBRE 8g
Please enjoy within 3 days for optimal freshness.