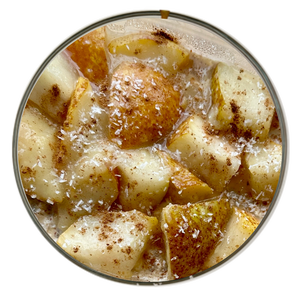 local pears, gf oats, maple syrup, flax seed, chia seed, almond butter, date, oat milk, gf granola, ginger, cinnamon, coconut
Contains nuts and grains
Gluten free oats contain 51 grams of carbs, 13 grams of protein, 5 grams of healthy fat, and 8 grams of fiber in just half of a cup making oats among the most nutrient-dense foods that you can eat! Oats are rich in carbs and fibre but higher in protein and fat than other grains.
Keep refrigerated until ready to enjoy! 
Please enjoy within 5 days for optimal freshness.