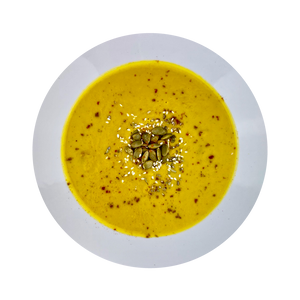 sweet potato, coconut milk, carrot, celery, butternut squash, onion, garlic, turmeric root, chilli flake, ginger root, lacinate kale, cashew, parsley, veg stock, sea salt, 
Sweet potato is a nutritional power-house vegetable that is high in Vitamin A, B6, C as well as folate and potassium. The high amount of potassium helps maintain a low blood pressure and can help prevent cardiovascular disease. 
Reheat to enjoy! Please keep in refrigerator for up to 5 days.