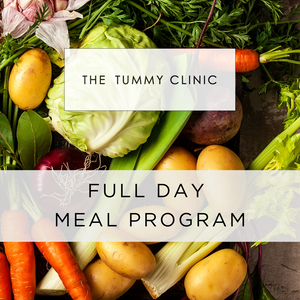 We have partnered with the incredible team at The Tummy Clinic to create a low FODMAP meal program that is designed to help those with gastrointestinal issues such as IBS and SIBO. The learn more about The Tummy Clinic, please click here
Each day you will receive three meals - One for breakfast, lunch, and dinner. All of the meals are low FODMAP and have been approved by the team of doctors at The Tummy Clinic. We offer a 100% plant-based "Vegan" low FODMAP option as well as an Omnivore low FODMAP option. The menu rotates seasonally - Please refer to the links below for the current menu.
Delivery days are Sundays and Wednesdays between 3pm-9pm.  3 day programs will be delivered all at once. 7 day programs will be split into two consecutive deliveries. 
All meals are made in house with organic whole ingredients, and free from gluten, dairy, egg, seed oils, preservatives, and refined sugar. 
*Please note: We do not make dietary changes as this is a very specific program but if you have any additional allergies please include them in the special instructions at checkout and we will do our best to accommodate.*
If you have any questions please do not hesitate to reach out! Email us at hello@eatnook.ca and we will get back to you within 24 hours.