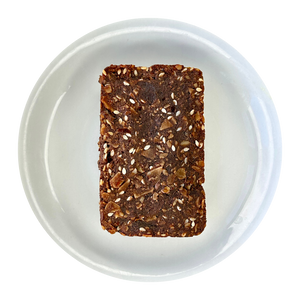 medjool date, cocoa powder, gluten-free oats, pumpkin seed, chia seed, flax seed, hemp seed, cinnamon, maple syrup, sea salt
Contains grains and nuts
Benefits of Dates:
Rich in Nutrients: Dates are packed with vitamins and minerals, including potassium, copper, magnesium, vitamin B6, niacin, and fiber.

Energy Boost: Dates are a great source of natural energy due to their high sugar content and the presence of complex carbohydrates.

Promotes Digestion: Dates are high in fiber, which helps to promote regular bowel movements and prevent constipation.
Keep refrigerated and enjoy within 5 days for optimal freshness!